Audible India's content catalog is confusing. Its recommendation engine is poor. Titles I'd like to read are only available in German, French, Italian.
How many self-help books and spiritual guides does a population need? How many wise words do people need to consume to lead positive, happy lives? Seems like a lot. Or...people are hoarding literary works offering wisdom to appear wise.
It's not surprising that Indian authors would have large contributions to the 'Religion & Spirituality' section. However, seeing some fringe spiritual gurus have published works is a bit surprising. Nothing wrong with that though.
I suppose I should preface this by saying that this is just my personal opinion on the content catalog. These works can and should exist. Just that, they don't work for me.

What's striking is how poor the recommendation engine is. I have 40-50 books in my library and 41 titles in my wishlist. About 60% books are Fiction-Fantasy/Humour and rest are Fiction-Mystery/Thrillers. 99.9% Fiction, maybe a couple of memoirs on the Tatas and Flipkart. That's it. Yet, I see recommendations for Health/Wellness. "Trending in your favorite genres" bears no resemblance to content I enjoy. Purchased books also have no bearing on the quality of recommendations.
I have pitiful regard for any ML/AI/user-profiling stuff Amazon does as a company. On Amazon India, if I purchase a router, immediately after the purchase is complete, I see more routers promoted under 'Products you may like' and in ads on Facebook. That's the level of "intelligence" they've mastered. Amazon Prime Video is equally poor, although I suspect there are business interests there to dissuade you from consuming a lot of streaming content (they bear bandwidth and content licensing costs if you consume more rich content).
Search in Audible is thankfully better than Prime Video. But their content library has some weird choices. They have programming audiobooks.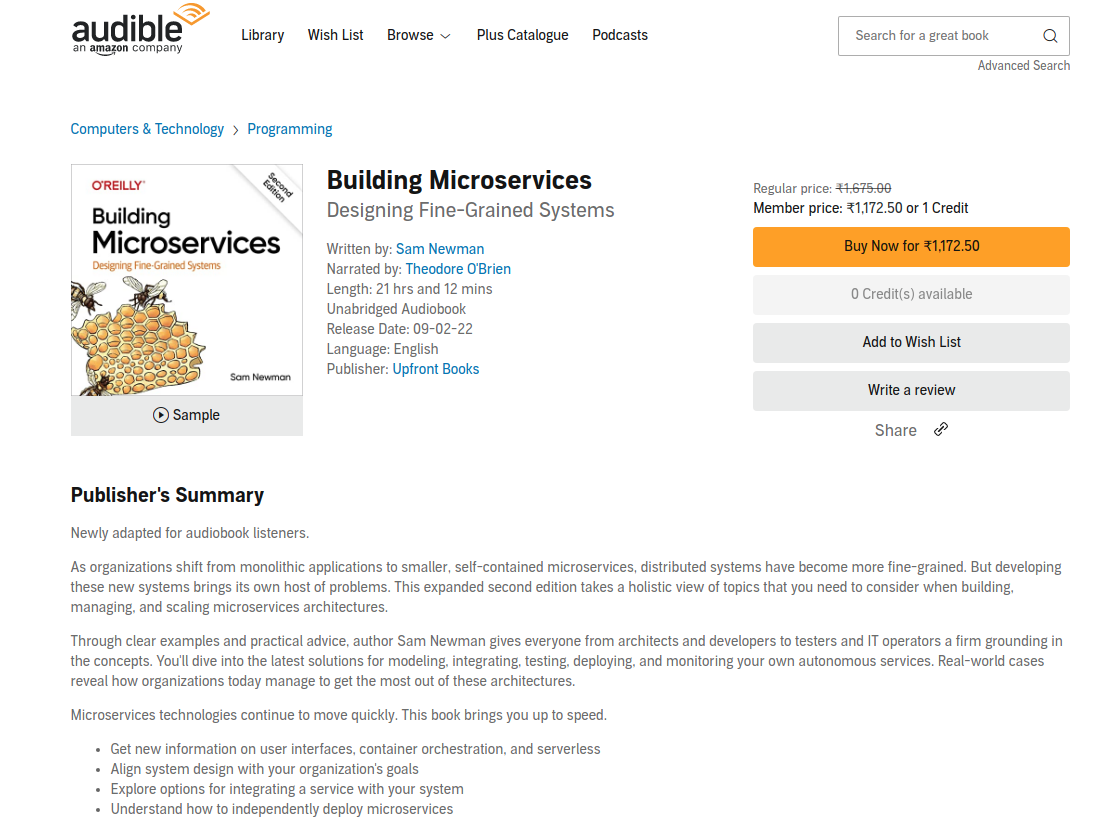 Then there are series that are incomplete. Or, series that are complete but mistagged, so they aren't displayed as a bunch in the app if you sort titles alphabetically.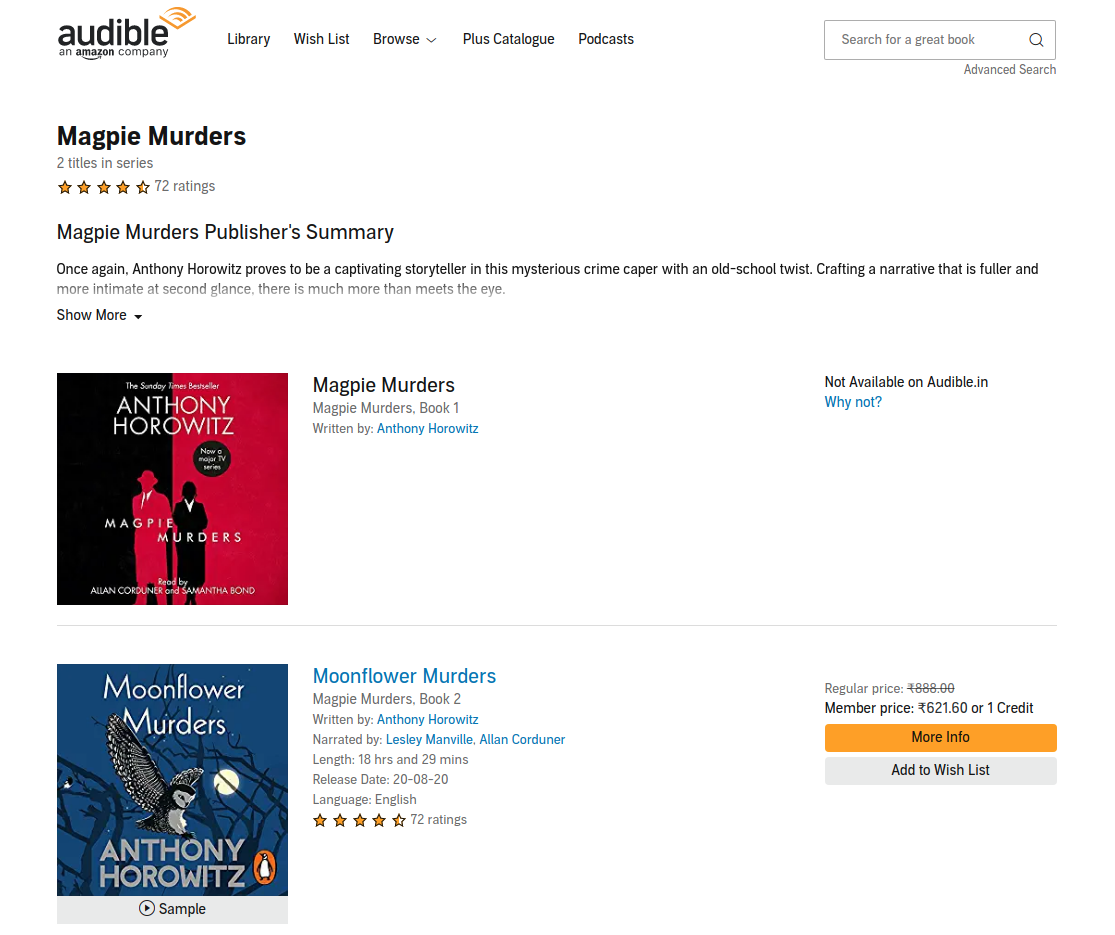 Books by Scott Lynch (among my favourite authors) are only available in German and Italian.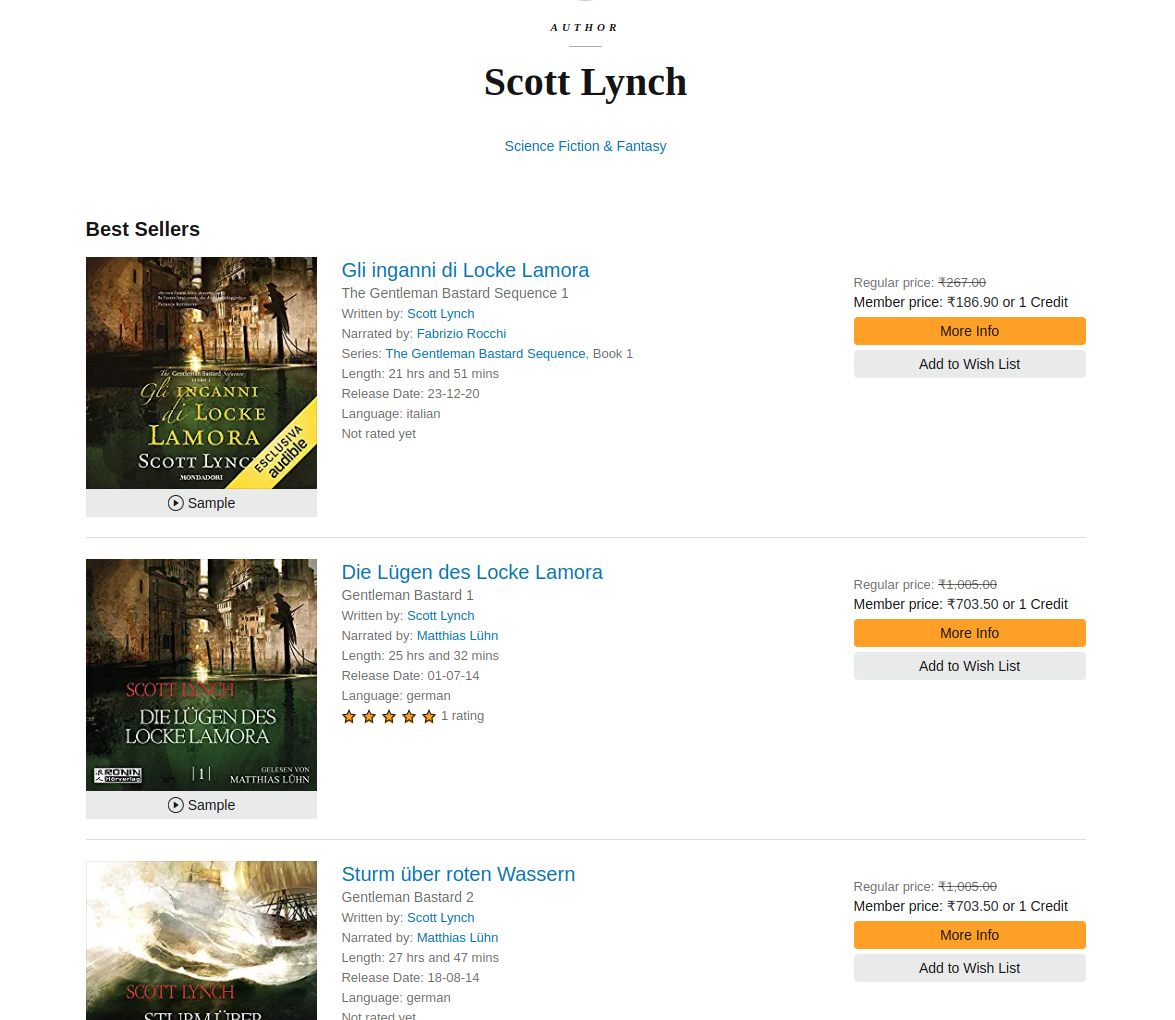 When I see titles that are only available in German, I wonder if this is AI at work. What if Audible India automatically licences and makes titles available based on some automated understanding of the demographics, consumer choices. What if that data is basically influenced by usage? And what if that usage, showing certain characteristics such as preference for German language content, is because people in Germany are engaging in currency arbitrage by operating Audible India accounts by VPN!? Now, that would be a hilarious audiobook I'd love to hear more about.
The good thing about Audible is that it undercuts the market. Google Play books makes a valiant attempt with its seasonal discount offers, but doesn't even get close to prices on Audible. I've even bought books outside of the Audible credit system because they were "cheap enough".
Another good thing that I hope will catch on is dramatized adaptations by GraphicAudio at reasonable prices. These full-cast abridged renditions backed by real production $ are simply great. BBC Radio has some good ones (His Dark Materials and a bunch of sci-fi), but this is a whole new level. Voice-acting can and should be a first-class career along with SFX art. Established actors reading audiobooks is fine and all, but it would be nice to see more people with good voices take this up as a career-option. Narrators can make or break an audiobook. Some of my favourite ones are Ben Onwukwe on the Olympus series, Michael Page on the Gentleman Bastard series, James Marsters, Jot Davies, Luke Daniels, Stephen Fry, and I'm looking forward to Alana Kerr Collins on 56 Days - there's just something about that Irish accent.
The bad thing about Audible is that those attractive prices and the FOMO turn you into a hoarder. I simply have to accept that I'm not likely to finish my "downloaded", "yours to keep" credit-backed titles. I'm still looking for more, better, "good deal" content, even when there's so much already in my library I've yet to explore. In gaming, Steam does the same to consumers.
Only way to break the chain is to end my subscription for a while.